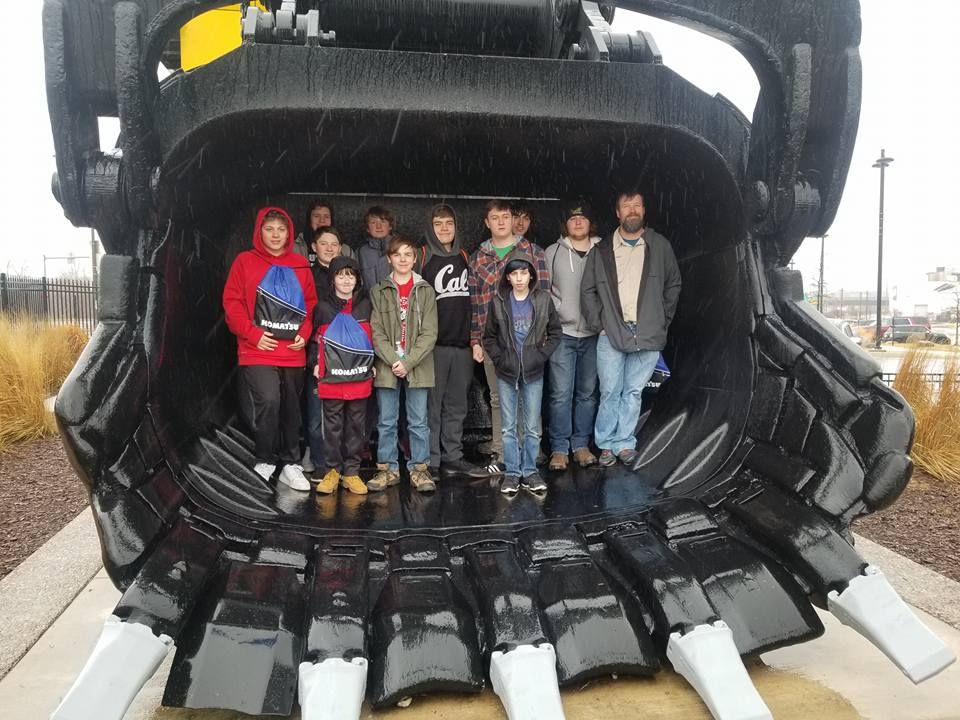 Mining in Society-Local Scouts Earn Merit Badge In 2014 the Society for Mining, Metallurgy and Exploration (SME)  and the Minerals Education Coalition (MEC) worked with the Boy Scouts of America (BSA) to develop the Mining in Society merit badge, including the requirements, pamphlet, badge design and other materials.   
This year, for the first time, thanks to the leadership of Donna Burbey, Project ManagerMechanical Engineering, and a small group of other volunteers, Komatsu Mining Corp's National Avenue location in Milwaukee hosted several Scouts in their quest to attain the Mining in Society Badge.  
  
Donna Burbey served as the lead and holds the distinction as a merit badge counselor. This position is strictly regulated and must be approved by the local council advancement committee for each badge a counselor                   
  
For Donna, taking on this role was a natural fit. "Anyone that spends any time around me will know that I am an avid fan of the BSA and very active in my son's troop (shout-out to Troop 595 out of St. Rita's in West Allis!).  I believe that their guiding principles and the manner, in which the scouts plan and oversee all the troop activities, builds character and camaraderie. When the BSA announced the newly added Merit Badge entitled Mining in Society, I was thrilled!  It could combine my two most prevalent activities together - my work here at Komatsu and scouting. Signing up to be a Counselor for this Merit Badge just seemed to be an obvious choice for me."  
  
This past April, Komatsu's National Avenue facility opened its doors to the Boy Scouts of America (BSA) to host an event that would help scouts attain their Mining in Society badge. "The badge fits perfectly into who we are and what we do" shared Burbey.    
  
"Requirements to achieve this merit badge include gaining the knowledge and understanding of surface and underground mining, various minerals and their use in our daily lives, the potential hazards that miners may face and the required equipment used to keep them safe."  
  
The 20 scouts and 10 leaders, representing Troop 595 in West Allis, Troop 875 in Port Washington and Troop 765 in Jackson, learned how our                   equipment has played a role in mining for nearly 135 years. They watched videos that depicted what life would be like without mining and took a virtual tour inside the Kennecott mine in Utah.  Scouts are taught to live by the 'Leave no trace behind' rule, which tied into discussing the importance of reclamation in mine sites, as they watched an overview of the Black Thunder mine in Gillette, Wyoming.    
  
Donna was joined by a strong team of Komatsu volunteers who helped make the day happen.  This included Brian Fox, Vice President Product Management; Mike Rikkola, Director-Analytics; Chase Maxey, Mining Application Engineer II who presented the  materials and shared their knowledge and careers with the Scouts.  Hands-on activities included operating the Shovel Simulator, the overview and control of the scale model shovels, led by Chuck Payne, Lead Engineer-Advanced Automation; and Engineer II-Advanced Automation and a factory tour led by Nick Dame, Lead Engineer.    
  
At the end of the day, 20 Boy Scouts earned all the requirements to achieve the Mining in Society merit badge and a new generation was introduced to the importance of mining in our daily lives.    
  
Supporting an activity such as this aligns with our focus on engaging with organizations encouraging a passion and interest in Science, Technology, Engineering and Math. Coordinators look forward to meeting with the local Boy Scout Council to discuss options to open the opportunity to earn the Mining in Society badge up to more troops, expanding the reach in the future.    
  
Special thanks to everyone who made this event possible. Encouraging Scouts to achieve their Mining in Society Merit Badge helps further interest in our industry.